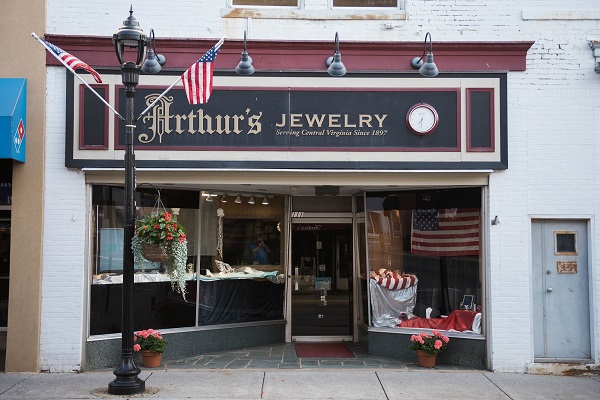 Our History
Arthur's Jewelry has been helping love sparkle for over 100 years. We were founded in 1897 on East Main street in Bedford, VA by J.A. Heuser. This is about the same time that the town of Liberty changed its name to Bedford City. This was also a time of great growth in the area.
Following the end of the Civil War, Bedford County moved into a period of rapid industrialization and our jewelry store was right in the midst of it. In the 1900s, Mr. Heuser sold his store to Penn Ayers who named the store after himself and then broadened its reach by bringing some of the finest jewelry available to Bedford. His thinking at the time - and it remains true today - was to provide the local community with fine jewelry of the selection and quality found in the big cities of Lynchburg and Roanoke. Back then, a trip from Bedford to downtown Lynchburg would have taken hours instead of the minutes it takes today. Even more reason for Arthur's Jewelry to offer the service it does. In fact, we have many shoppers who travel from far outside of Bedford City to visit us.
In 1928, our store took the name of Arthur's Jewelry after Luther Arthur purchased it from Penn Ayers. Luther built on the reputation of quality service and fine jewelry until 1953 when Melvin and Margaret Dickler purchased the store. With such a legacy built upon the Arthur's Jewelry brand, the Dicklers kept the name and continued growing the store - including moving it to its current location on Bridge Street - until 1992.
As a teen, Jim Messier (son of Bedford's former mayor) was looking for an opportunity while in high school. He was working at the old skate rink in Bedford when Mr. Dickler offered him a job at Arthur's Jewelry. Jim saw an opportunity and without even knowing the pay, took the job and began a week later. During his years working for Melvin Dickler, Jim learned the jewelry trade inside and out. During college, Jim took a break from Arthur's Jewelry but was quick to return after graduation. He engaged his new "adult" career with the same enthusiasm he had when he was younger and went on to become a Graduate Gemologist.
After working two-decades for Melvin Dickler, Jim purchased Arthur's Jewelry in January 1992. That makes over four-decades of diamond and Jewelry experience for Jim. Arthur's Jewelry is a landmark in Historic Centertown Bedford where the past and the future share a common thread: Symbols of love.